With the weather beginning to change and Boston's flowers starting to bloom, the city is will soon be a beautiful place to spend time outside. Experience springtime in Boston with a self-guided walking tour of the area's best spots to see amazing spring flowers. Here are some locations where you can see gorgeous flower displays.
Back Bay
The Magnolia trees along Commonwealth Avenue, Magnolia Street, and Beacon Hill are one of the most beautiful sights to see in the Spring. Along these roads, you can see huge saucer magnolias in pinks, reds, and deep purples, mixed in with other types of magnolias as well
The Esplanade
Cherry trees planted along Boston's Charles River Esplanade bloom in April. Unfortunately, these blossoms do not last long but are usually in full bloom in mid to late April. You'll find the highest concentration of cherry trees in the section of the Esplanade bordering Back Bay, roughly between the Fiedler Footbridge (off Arlington Street) and the Mass Ave access ramp.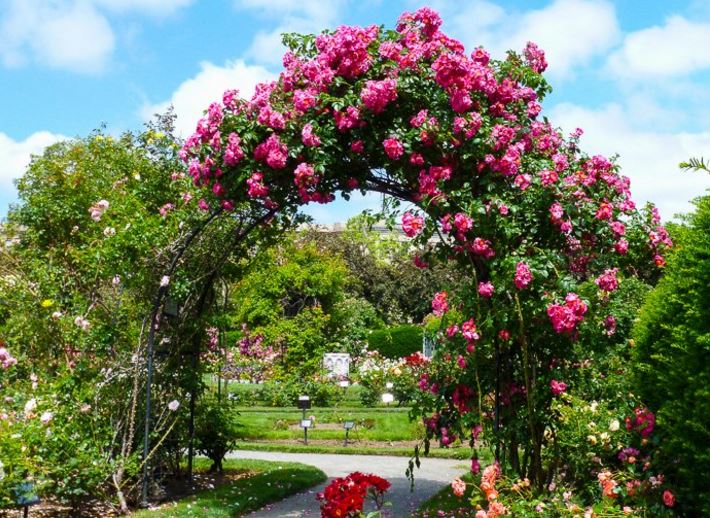 Kelleher Rose Garden
The Kelleher Rose Garden is located near the Victory Garden's in the city's Fenway neighborhood, a short distance from Fenway Park. The roses are most amazing in June, but you can see flowers begin to bloom starting in may.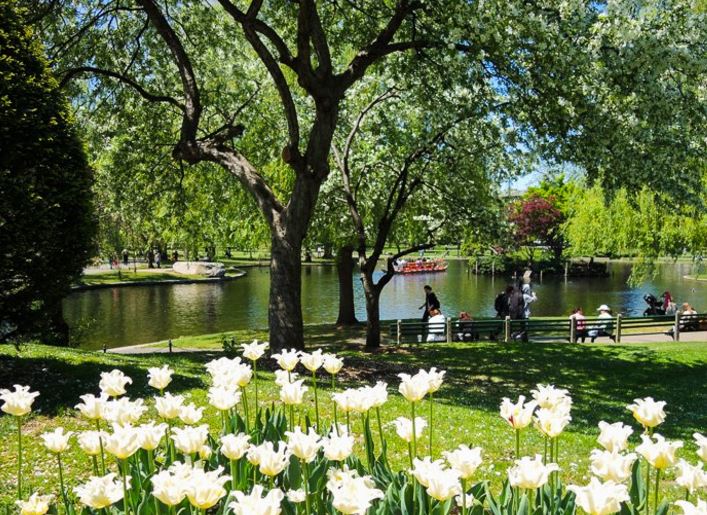 Boston Public Garden
Boston's Victorian-era Public Garden, right next to Boston Commons, features winding paths and smaller gardens spread throughout the park. The flowers on display vary somewhat each year, but always include tulips and annuals such as pansies during April and May. In addition to flowers, spring foliage in the Public Garden is also spectacular, especially the many weeping willows surrounding the pond. The best way to enjoy close-up views of the willow foliage is by taking a swan boat ride when the boats return in mid-April.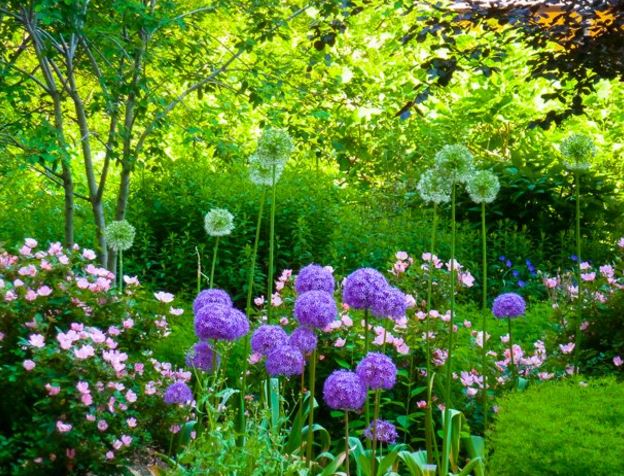 Rose Kennedy Greenway
The garden sections of the Rose Kennedy Greenway are filled with beautiful spring flowers. Across from the North End, you'll find daffodils and lilies and as you walk south you can see tulips. Near South Station and Chinatown are the stunning Chinese Gardens. Starting in about mid-May, peonies and rhododendrons bloom, surrounded by bamboo shoots.The best place to begin your Greenway tour is not on the Greenway itself, but a few steps away at the Rose Kennedy Memorial Garden, located near the southwestern edge of Christopher Columbus Park just north of the Boston Marriott Long Wharf Hotel. Here, roses bloom from late May through frost, with especially spectacular flowers during June.