Fall is in full swing, with a crisp in the air and all your favorite seasonal treats coming back into rotation. One of the most wonderful parts about living in New England is that we get such distinct seasons, and with the Fall comes the changing of leaves. Vibrant reds, oranges, and yellows dominate the New England color scheme throughout September and October, and present the perfect opportunity to get out and enjoy the colorful scenery with some leaf peeping! Every state has different peak foliage time; for Massachusetts, mid-October is the best time to go peep some leaves. Click here for a fall foliage map of peak dates.
With many state forests and scenic drives, there are options to catch the fall leaves whether you want to stay closer to Boston or drive up to New Hampshire or Vermont. Here's a list of some options for every type of leaf peeper to enjoy!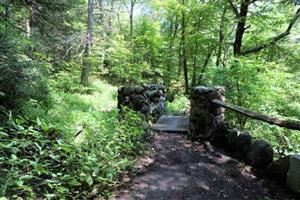 Often referred to simply as the Fells, this state park stretches across Malden, Medford, Melrose, Stoneham, and Winchester. There are more than 100 miles of hiking trails and two reservations for you to explore. To really get a good glimpse of the leaves, hike up to Wright Tower where you'll get a spectacular view of Boston, the surrounding area, and the bright foliage!


Broadmoor is an Audubon Wildlife Sanctuary that over 800 acres on the Charles River in Natick and Sherborn. It's got 9 miles of hiking trails through forest, wetlands, and fields. In the fall, one of the best activities to do there is canoe along the Charles River and take in the beautiful variety of colors.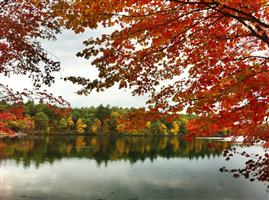 Just down Route 2 in Concord, Walden Pond is a serene getaway where you can hike the trails to see the home of Henry David Thoreau or take a boat out on the pond and get a 360 degree view of the trees and their vivid reflections on the water.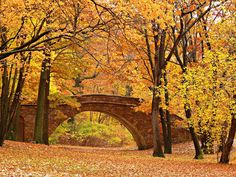 The Emerald Necklace cover 1,100 acres in the Boston Area, and is made up of several parks and recreation areas including the Arnold Arboretum, Jamaica, Pond, Olmstead Park, and The Riverway. You can walk the 7 miles from one end to the other or explore park by park. To see a huge variety of trees, the Arboretum bordering Roslindale and Jamaica Plain has a lot of leaves to peep with 14,980 different kinds of plants.
If you are feeling more ambitious, there are an abundance of scenic drives that you can take to get out of Boston and be immersed in the fall beauty. The Berkshires have many scenic drives and hikes to enjoy. To see a comprehensive list of leaf peeping drives, check out this Boston Magazine article on "The 15 Best Foliage Drives in New England".