Happy Father's Day! Here in the United States, children and mothers celebrate their fathers or husbands on this beautiful day. Families go out to dinner, exchange a small gift, card and express their love for their fathers. It's a day to show appreciation for their contributions and pay tribute to all the hard-working fathers. In addition to Dads, families wish 'Happy Father's Day!' to grandfathers, uncles, stepfathers and other men in father figure roles.
Typically this holiday is celebrated on the third Sunday of June in the United States as well in over 90 countries such as Japan, the United Kingdom, France, Chile, Colombia, Argentina, Canada, India, Turkey, and the Netherlands.
Some countries have religious ties to this holiday such as in Spain in which this day is called, "Dia del Padre", and in Italy, "Festa del Papa". It is celebrated on March 19 based on the Catholic observance day of the Feast of St Joseph. Furthermore, 40 days after Easter, Ascension Day takes place in Germany in which people attend church to celebrate Jesus' ascension to Heaven.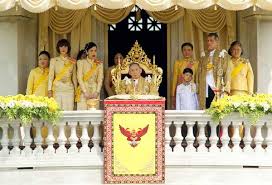 Next, Thailand celebrates the birthday of King Bhumibol Adulyadej on December 5 by gathering in the streets to sing, light candles and show their respect. This day is extremely significant in their culture and it is a tradition to wear yellow shirts. The Thai expression for 'Happy Fathers' Day' is สุขสันต์วันพ่อ[sùk-săn wan pâw.
Finally, the countries of Australia, New Zealand, and Sweden commemorate Fathers on first Sunday in September while in Denmark, Finland and Norway it's on the second Sunday in September. Brazil celebrates 'Dios dos Pais' on the second Sunday in August while Russia and Belarus celebrate the 'Defender of the Fatherland Day' on February 23rd to mostly show respect for veterans.
Thank you to all the Fathers in the world – we wish all of our host fathers a Happy Father's Day!
Sources: http://blogs.colgate.edu/bookstore/2015/06/fathers-day-traditions-from-around-the-world.html
https://www.theholidayspot.com/fathersday/around_the_world.htm