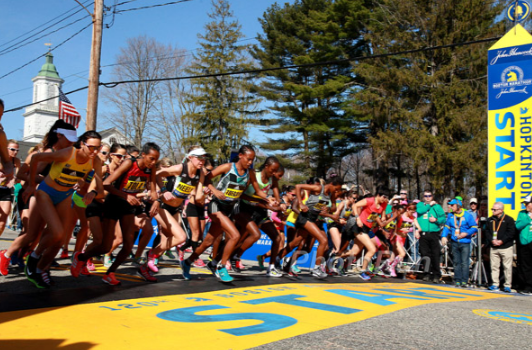 What: 121st Boston Marathon
When: Monday, April 17th
Where: Hopkinton – Boston, MA. (The finish line is at 665 Boylston Street)
Time: 8:30 am – 5:30 pm (The winners usually finish within two hours)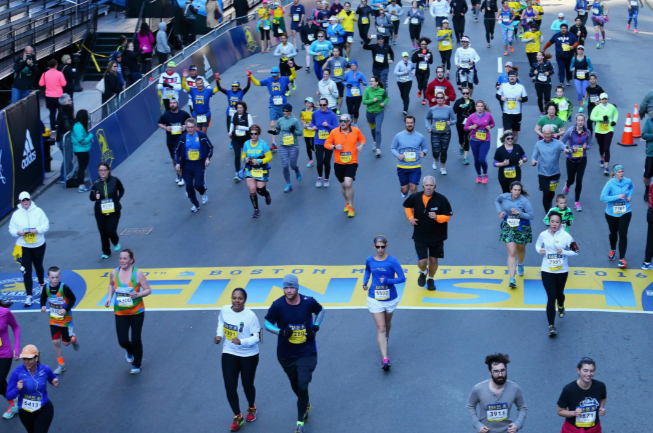 Schedule:
| | |
| --- | --- |
| DIVISION | START TIME |
| Mobility Impaired | 8:50 a.m. |
| Men's Push-Rim Wheelchair | 9:17 a.m. |
| Women's Push-Rim Wheelchair | 9:19 a.m. |
| Handcycles & Duos | 9:22 a.m. |
| Elite Women | 9:32 a.m. |
| Elite Men & Wave One | 10:00 a.m. |
| Wave Two | 10:25 a.m. |
| Wave Three | 10:50 a.m. |
| Wave Four | 11:15 a.m. |
History:
After experiencing the spirit and majesty of the Olympic Marathon, B.A.A. member and inaugural US Olympic Team Manager John Graham was inspired to organize and conduct a marathon in the Boston area. With the assistance of Boston businessman Herbert H. Holton, various routes were considered, before a measured distance of 24.5 miles from Metcalf's Mill in Ashland to the Irvington Oval in Boston was eventually selected. On April 19, 1897, John J. McDermott of New York, emerged from a 15-member starting field and captured the first B.A.A. Marathon in 2:55:10, and, in the process, forever secured his name in sports history.
In 1924, the course was lengthened to 26 miles, 385 yards to conform to the Olympic standard, and the starting line was moved west from Ashland to Hopkinton.
Why patriots Day? From 1897-1968, the Boston Marathon was held on Patriots' Day, April 19, a holiday commemorating the start of the Revolutionary War and recognized only in Massachusetts and Maine. The lone exception was when the 19th fell on Sunday. In those years, the race was held the following day (Monday the 20th). However, in 1969, the holiday was officially moved to the third Monday in April. Since 1969 the race has been held on a Monday. The last non-Monday champion was current Runner's World editor Amby Burfoot, who posted a time of 2:22:17 on Friday, April 19, 1968.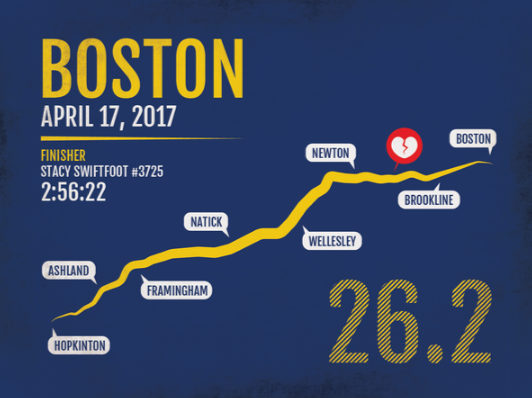 Important Spectator Information:
Where are the best places to watch? There is ample space every mile from Hopkinton to Boston for fans to gather and cheer on your journey to Boylston Street. Some of the most famous spots are the Wellesley Scream Tunnel just before halfway; Heartbreak Hill in Newton around Boston College; and the final stretch on Boylston Street before the finish.
Be aware that if you are watching the Boston Marathon anywhere along the 26.2-mile course you should expect a significant presence of uniformed and plain clothed police officers. In some areas, you may be asked to pass through security checkpoints. The marathon website has a full list of items that are not allowed in the race are.