I'm inching closer and closer to graduation every single day. And yeah, it's absolutely terrifying. So as my college years come to a close, I've become extremely nostalgic. I mean, for goodness sakes, I moved to Boston four years ago. Four years ago, my mom and I drove up to the front steps of my freshmen year dorm. Four years ago, I walked into my room and yelped: "Mom, what is this? A prison?"
Well, the good thing is it wasn't truly a prison. Yes, my single-turned-double was extremely tight, and my roommate and I had to find some creative ways to coexist – but I wouldn't change my experience for anything. For the first years of college I remember being sure that once college was done, I'd be fleeing Boston. Well, that's definitely not true anymore. My plans are to stay here, and live blissfully with my lobster rolls and green beer.
Although I'm staying here, and I guess not much will change, I thought I'd compile a list of must-dos in Boston. I didn't do much exploring my first few years of college, but more and more I realized how much this city has to offer. You guys should be aware of that too.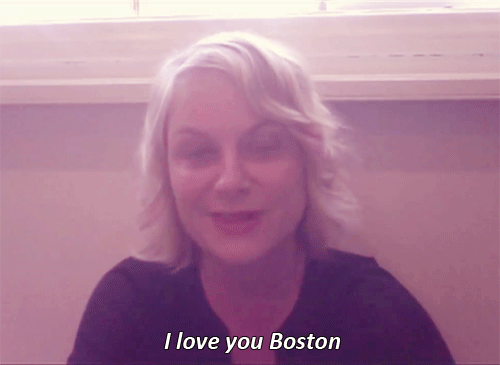 (even amy poehler agrees with me)
Explore the North End, and not just for the Mike's Pastry
I'm a sucker for lobster tails. They're puffy and creamy, and I could easily chow down on like 15 of them. Mike's Pastry, besides its cannolis, is pretty well known for its lobster tails. Even though every time I go to the North End, I run straight to Mike's – I'm telling you to do the exact opposite of that. There is SO much to do in the North End, and Mike's should still be part of it – but not the only part.
Some of you may be a little far to do this, but if your walk is an hour or less, take that chance and walk all the way to the North End. You'll find all these little nook and crannies, and you might just stumble into a restaurant that you wouldn't have otherwise. That's what happened to me when I walked into Trattoria Il Panino. Okay, before you start telling me that this place is well known and that I'm ridiculous for even bringing it up, let me explain myself first. When I walked to the North End over the summer, I went around and through. The back of the trattoria was hidden in this small street, and it looked great, so I walked in. Most trattorias around Boston aren't true Italian. This place isn't like that at all – this is the true Italian. The minute I told them my family was from Italy, they immediately started speaking to me in Italian. Thankfully, I understand some of it (thanks daddy). I got some of the best service I've ever gotten, and I left with a full and happy belly.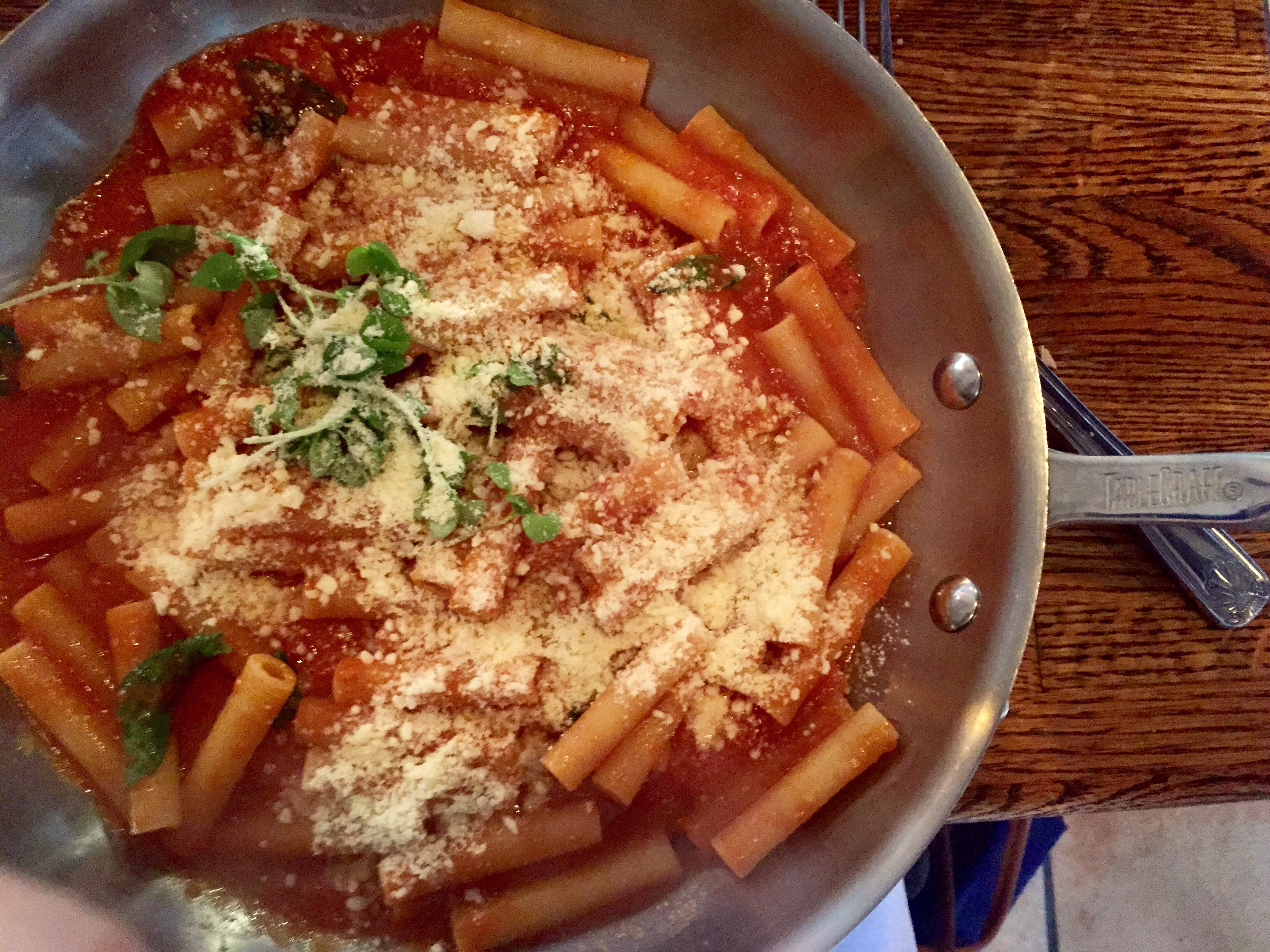 (I ate that entire thing)
Because I'm always hungry and apparently an entire skillet of pasta couldn't fill me up, I went looking for dessert. Gigi's was the only gelato place that I could see from a short distance – but don't be lazy like me. Go on a hunt! Gigi's was good, but nothing compared to the true goodness that I found inside of Bova's Bakery. Bova's is a lot like Mike's: you know, the old school traditional bakeries that look straight out of Don Vito's neighborhood. Who knows? You might even bump into a Corleone. But back to the point – Bova's is delicious. You might feel a little lost, because they sell both baked goods and calzones – so do what I did, take the calzone to go, and eat a cannoli (or five).
Non c'è niente come il cibo italiano.
Since you're in the North End, go to the Boston Public Market
I've talked extensively about the Boston Public Market, so I won't go on for long. Moving from the Italian streets of the North End to the market might seem a little weird at first – one is very old school, and the other is a brand new, state of the art indoor market. But you just can't miss this market. You'll most likely be filled to the rim from your five cannolis, but just take a stroll. You can pick up some flowers, and have a sip of Hopsters Alley's IPA.
Sit and chill by the Charles River
There are many times during my day where (my boyfriend and) I repeat the line "can you just sit and chill?" And though I hear it repeatedly and attempt to make it my mantra, I don't do it very often (sorry Santi). If you're a coffee chugging, hyperactive nut like me, please follow my next recommendation. Go to the Charles River, and just sit. That's right. Just sit. Okay, don't sit inside the river because that's probably not so safe. There's a walkway around the river that's easily one of the most beautiful sights in Boston. You'll see people running, babies laughing, and couples strolling – seriously, you can't ask for a happier place. There's a dock right around the Hatch Shell. Tie your hair back (because Boston winds are no joke), take out your bag of baby carrots, and post up. You'll clear your head, and leave with some serious peace of mind.
Okay enough of this calm, here comes the storm
Well, it's not really a storm, but I thought that was a nice segway. While you sit on the Charles River dock, you'll probably see a couple kayaks roaming past you. You're not crazy, they're actually there, and they're coming straight from the Charles River Canoe & Kayak. Once Boston decides to stop changing up its weather every other day, you should take a trip down there. I went last summer with one of my best friends, and did absolutely none of the paddling, but it was still a total blast. While he paddled about 300 pounds across the river, I just sat back and tanned. Pretty lovely.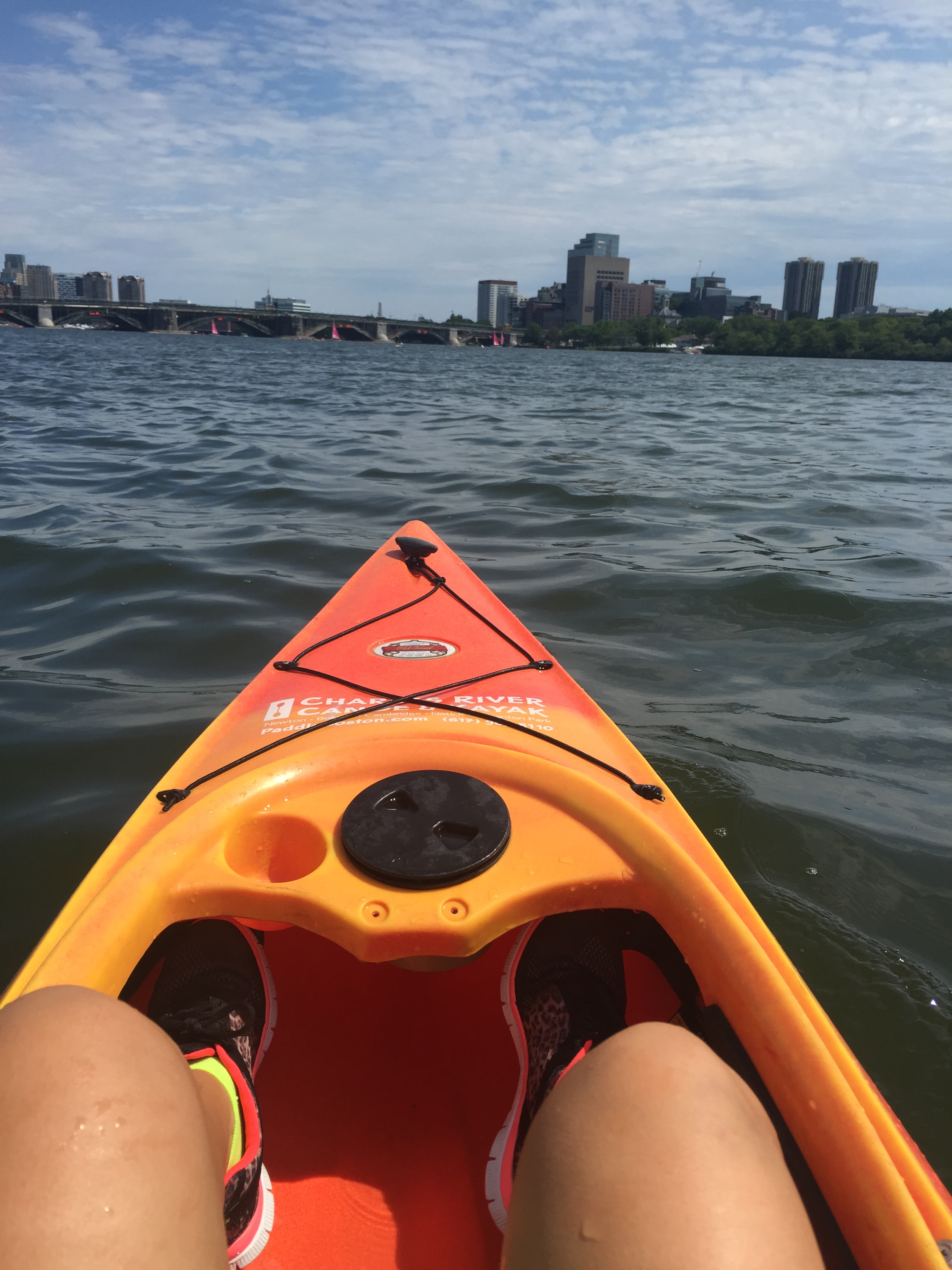 (what a view amirite?)
If you go around 11 or so, my recommendation is to (obviously) pack some snacks. I got real hungry (obviously) and had to cut my tanning escapade short. So if you're trying to just enjoy your day, and have your kayak take you wherever it may, pack a granola bar or a full thanksgiving meal – whatever floats your boat (see what I did there?).
Harvard Square isn't just for Harvard students
That's right. Even though both the T stop and the general area are named after the Ivy League school, you don't have to be a student to go there. I admittedly didn't really know much about HS before I started commuting to work. There is SO much to see there. But I'm going to start with my favorites: Felipe's, Liquiteria, and BerryLine.
Felipe's Taqueria
Almost all yelp reviews say this is the greatest Mexican food in Boston. I'll clarify that right now: it's actually the greatest Mexican food ever. Yes, it's better than Chipotle, it's even better than my hometown honey Lime Mexican Grill (that's a bold statement right there). I don't know what they do in that kitchen, or how the burrito maker goes as fast as he does – but I'm grateful regardless of what their secrets may be. Felipe's made me want to create a time machine, just so that I could keep eating and re-eating my rice-less chicken burrito. It'll get messy because the pico will spill out of the burrito, and through your fingers. But don't you dare waste that – do as your cheeto-finger-licking self would do, and lick away.
Liquiteria
This next one just shows how basic I truly am – this place is a smoothie making, juice pressing joint. There is one almost on every corner in Manhattan, but for some godforsaken reason there is only one here. And just my luck, it's not in my neighborhood (sigh). If you love kale juice and chia pudding, go here and pay $10 for your smoothie. Haha, I know. It's $10 for literally a cup of pressed vegetables, but it'll be the best (and the healthiest) $10 you'll ever spend.
BerryLine
This is my spot in Harvard Square. I shouldn't even be talking about it, because now everyone will flock there. But since I'm a good person and I want BerryLine's sales to boom so they eventually open up in Fenway, I'll tell you how wonderful of a frozen yogurt shop this is. Hands down, this is the best frozen yogurt I've ever had. It's just as smooth, with a hint of creamy as any other froyo joint, but their flavors are so insanely unique. They range from raspberry fudge to lavender honey to caramel toffee to oreo, and almost all of their toppings are homemade. I don't even know what goes into making mochi, and they make it. I'd say don't eat before this so you can try all their baked goods, but I go there straight from Felipe's…(my summer body plan is going well).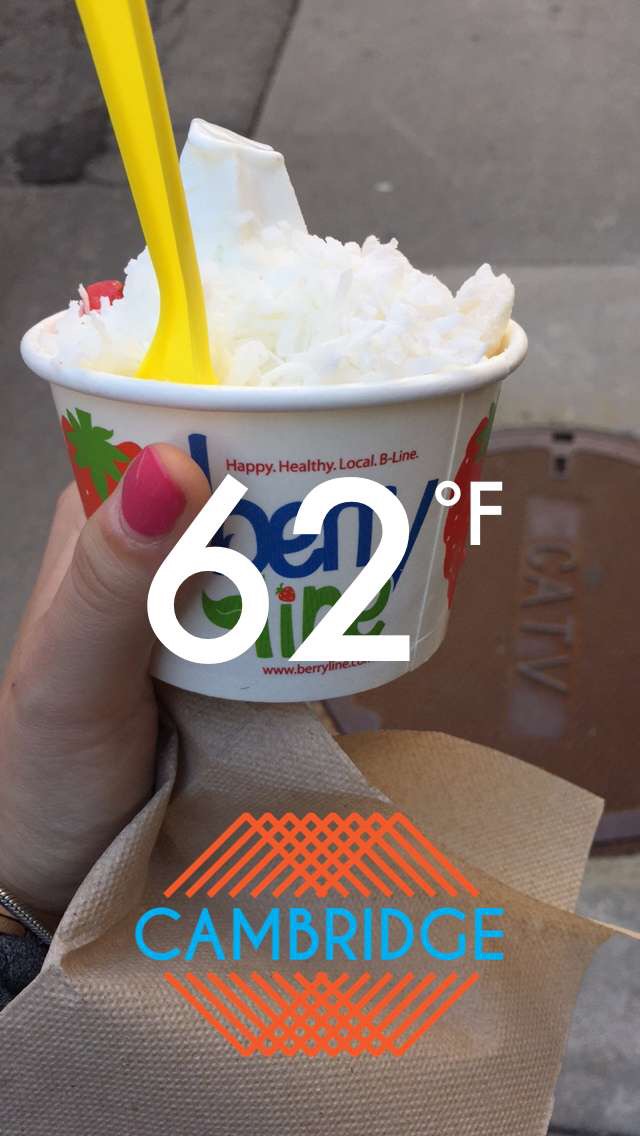 (this is the lavender honey topped with coconut, mochi, and strawberries – aka best toppings ever)
I've given you five recommendations for now, and I really do think you should take all of them. I've gone to all of these places personally, and I wouldn't be placing them at the top of my Boston tips list if I didn't love them and appreciate them as much as I do. There are more tips to come, but go on an adventure and try these out for size.
Bahston's wicked beddah than yah think.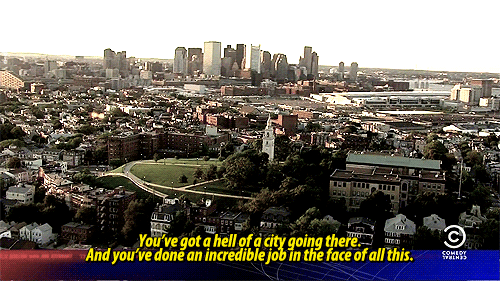 boston strong.