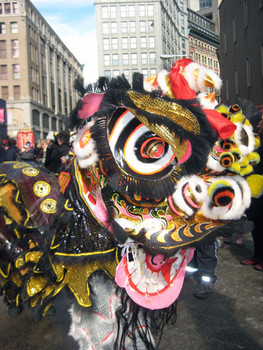 Lion Dance Parade in Boston
"Chinese New Year is the most important of the traditional Chinese holidays. In China, it is also known as the 'Spring Festival', the literal translation of the modern Chinese name. Chinese New Year celebrations traditionally ran from Chinese New Year's Day itself, the first day of the first month of the Chinese calendar, to the Lantern Festival on the 15th day of the first month. The evening preceding Chinese New Year's Day is an occasion for Chinese families to gather for the annual reunion dinner. Because the Chinese calendar is lunisolar, the Chinese New Year is often referred to as the "Lunar New Year". This year's Chinese New Year's Day falls on February 10th. The New Year will be the year of the snake."

"Chinese New Year is the longest and most important festival in the Chinese calendar. Chinese New Year is celebrated in China and in countries and territories with significant Chinese populations, including Hong Kong, Macau, Taiwan, Singapore, Thailand, Indonesia, Malaysia, Mauritius, Philippines and also in Chinatowns elsewhere. Chinese New Year is considered a major holiday for the Chinese and has had influence on the lunar New Year celebrations of its geographic neighbors."
Did you know?
According to the legend, Chinese New Year began with a battle against a mythical beast called Nian. Nian would always come to terrorize villages on the first day of New Year, eating wild stock, crops and even children. To protect themselves villagers would leave food in front of their doors, with the hope that Nian would be filled. They also noticed he wouldn't eat children wearing red, and was scared by loud noises like firecrackers. As a result villagers would hang red lanterns, make lots of food and light off firecrackers, all Chinese New Year traditions that continue to this day.

The first through 15th days of the New Year all celebrate different things. Some people celebrate the second day as the birthday of all dogs. The eighth day is when people are supposed to resume going to work and school. The 13th day is celebrated by eating all vegetarian food, and in Malaysia and Singapore, the 15th day is marked a sort of eastern Valentine's Day.

The San Francisco Chinese New Year Festival and Parade is the oldest and largest event of its kind outside of Asia, and the largest Asian cultural event in North America.

In China, so many people travel from urban to rural areas to visit their families for the New Year that their commute is the largest annual migration in the world.
Chinese New Year's in Boston
Boston has the third largest Chinese community in the U.S, so New Year's is a time of great celebration! The Chinatown neighborhood is located within the boundaries of Downtown Crossing, the South End and runs adjacent to the Theatre and Leather Districts. It is easy accessible by the Orange Line Chinatown stop. There is no shortage of restaurants available for traditional New Year's dishes such as dumplings, noodles, and smoked meat. Nearly every corner has a restaurant where you can enjoy a meal. For a New Year's favorite, the annual Lion Dance Parade is particularly popular.
NOTE: this year's parade will be held on February 17th, not the 10th!