Global Immersions Homestay specializes in customized group homestay programs.  We spend time discussing and determining exactly what each client wants their students to experience during their time in Boston.  There is not a minimum or a maximum on the length of stay or number of visitors in the group. Each homestay program is designed for the group! 

In late March, we had the pleasure to welcome a very large group of middle school visitors from Chiba Middle School in Japan to homestay for an intensive program.  The Chiba visitors were on a school trip to Boston to sightsee, attend special lectures and workshops at M.I.T., tour Fenway Park and spend one day at two local high schools interacting with high school students and learning about the U.S. educational system. The goal of the homestay program was to live with Americans in order to truly experience and learn about U.S. culture.  Our hosts exposed the visitors to a variety of activities and events and foods that allowed them to have a taste of American life. 

Here are a few of the experiences the Chiba visitors enjoyed with their hosts!
Played instruments with family members
Walking tour of Boston Common and downtown (Freedom Trail)
Walking tour the North End
Walking tour of Faneuil Hall
Played outside (basketball, trampoline, catch, etc.) with family
Toured Chinatown
Salem tour and museums
Toured the USS Constitution
Watched movies and played Wii and video games
Toured Rockport and the North Shore area
Attended sporting events or practices with family
Played board games
Went bowling
Attended church
Attended folk dancing event
Went on nature walks
Had a dinner party with extended family and friends
Went to the grocery store
Had a traditional "Thanksgiving" dinner
Attended a bridal shower and birthday party
Patriot's Place
Went to the mall or shopping area
Toured a local fire station
Attended a school event (carnival)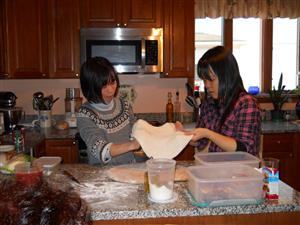 Chiba visitors learning how to make pizza!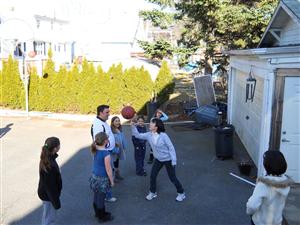 Chiba visitor doing a basketball trick for host family!
Boston is a city filled with all types of activities and happenings for any interest. The highlight is not only the diversity of our great city's offerings but the fact that many events are FREE!
Our hosts received a handmade booklet from each Chiba visitor describing them and their interests, what a typical day in their life was like, details about their family and Japanese culture. The visitors also prepared a Japanese meal for their hosts. It was a win-win situation for the hosts and visitors and a successful group program!